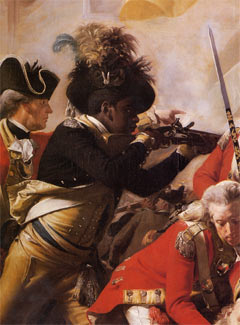 Black British Loyalist, American Revolution
Painting by Copley, 1782-1784. Tate Gallery.
A new influx of freedom-seeking blacks reached Florida during the American Revolution (1775-1783), when American slaves agreed to fight for the British in exchange for liberty. (Florida remained under British control throughout the conflict.) During the Revolution, hundreds of black refugees forged new ties to Seminole Indians in Florida, many of whom also fought as British allies. Ironically, the American struggle for independence spawned new enemies on the Southern frontier -- blacks and Indians seeking the same rights of self-determination.