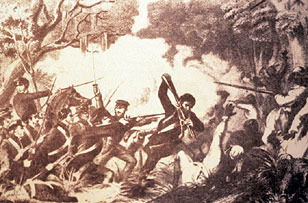 Battle of Lake Okeechobee
Engraving, 19th-c., Architecture and Historic Conservancy.
Fought Christmas day, 1837, the largest battle of the Second Seminole War proved climactic for John Horse and the black holdouts. For his alleged victory, U.S. commander Zachary Taylor won a promotion and his first taste of national glory on a long road to the presidency. John Horse won obscurity -- and freedom.
Also see: